Enhancing Prostate Cancer Care
A FREE, Massive Open Online Course (MOOC) delivered in collaboration with Prostate Cancer UK and powered by PebblePad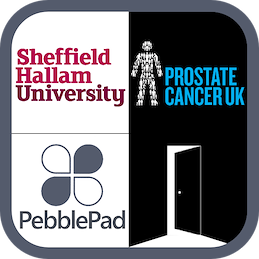 This course will be delivered in collaboration with Prostate Cancer UK, powered by PebblePad.
It will run over 5 weeks duration:
13th October - 14th November 2014
A course designed and developed to bring together and draw upon the expertise and perspectives of a range of health professionals (including Oncologists, GP's, Nurses, Therapy Radiographers, Physiotherapists, Occupational Therapists, End of Life Care specialists etc. students training in these fields) patients/service users and carers.
Indeed, anyone involved with or interested in the Prostate Cancer Care Pathway, is invited to help explore ways in which this could be enhanced for the benefit of the patients, service and practitioners.
There is a different focus for each of the weeks as specified below:
Week 0 - Orientation
Week 1 - Diagnosis
Week 2 - Treatment with curative intent
Week 3 - Metastatic Disease and End of Life Care
Week 4 - Survivorship
The course will utilise the workbook functionality in pebblePad as the means of delivery ('MOOC in a Book'), which will mean you can 'take away' all of the course resources and evidence of your participation in it, at the end of the course ('MOOC to Go').
If you would like to sign up for this exciting new course, you can do so via this registration link.
Part of the CPD Byte Size dimension of SHU's CPD Anywhere™ framework.